There are some key things you need to do in order to have your organisation fully set up to begin selling tickets to your events.
A note before you start – we use the term 'organisation' pretty loosely. In tickets.org.au the term 'organisation' refers to the person/company/group hosting a ticketed event. You could be an individual, small business, sporting club, church group right through to large business organisation. Don't let the term throw you off – tickets.org.au will work for you whatever your need!
1 – Enter your organisation name and select a 'short name' which will be used as part of every event URL you create.
Example: Your organisation name may be Bob's Burgers. A great short name for you would be 'bb'. Every URL you now create will begin with tickets.org.au/bb/…  The longer your 'short name', the more space it takes up in your unique event links.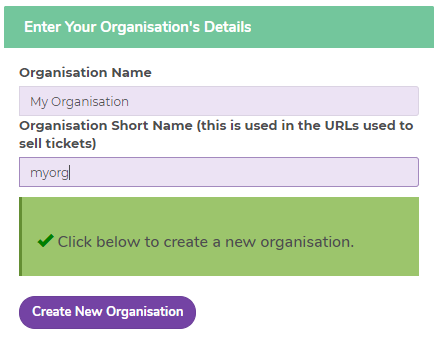 At this stage, you can begin setting up events and go live with any free events, but you will not be able to begin selling tickets with a cost until you have connected to a Stripe account.
If you see this warning, you are not set up to receive money for ticket sales (you're good to go for free events): 

2 – Connect your organisation to a Stripe account.
Click the link in the yellow banner that says 'click here to set it up now' which will open a setup page on the Stripe website. Follow the instructions and click the blue 'Authorize access to this account' button when you're done. Now you're set up to receive payments for your tickets!
 If you already have a Stripe account, follow the same 'click here to set it up now' link and follow the link on the top right of the Stripe sign up page to log in to your account. You can then follow the prompts to connect to your tickets.org.au account.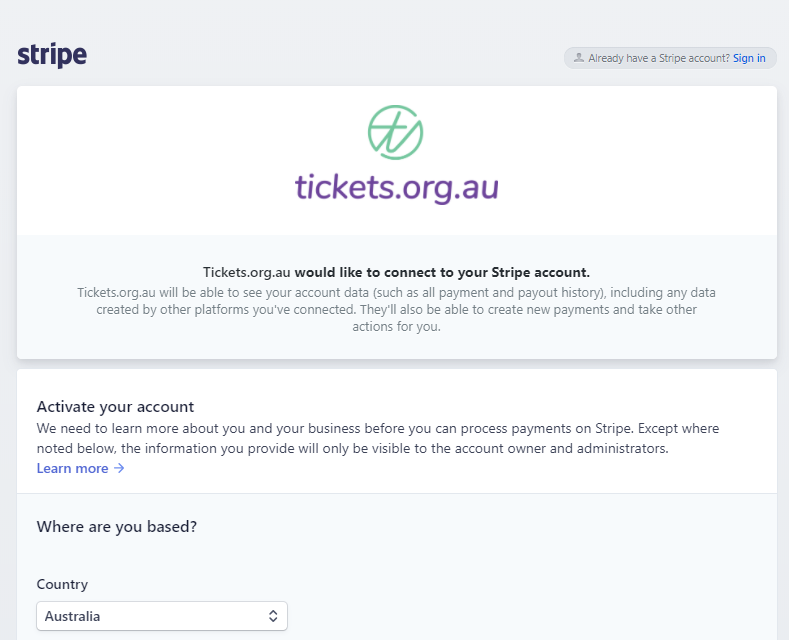 Once you've followed these simple steps you're ready to open your tickets sales to the world and collect payments for ticket sales.
If you would like to set yourself up to receive direct debit payments also, you can find out more about that here.