Accessing and Deleting Data
The information you provide to tickets.org.au when setting up an account, an organisation or an event, or by purchasing a ticket to an event, is accessible to you at any time. 
Organisation Details
The information you provide to us will not be shared by us to any other organisation or individual. You can access and edit the information you have provided by logging into your app.tickets.org.au account and opening the Organisation tab in the company menu on the left.
If you need to edit, update or delete an email address you used to set up your account or organisation, please contact us.
Events Data and Details
If you no longer want your event to be accessed via it's unique URL, the easiest thing to do is to archive it. You will still have full access to the event and participant data but the event can't be found online or accessed via it's URL.
Click the down arrow on the top right of your event from your 'Current Events' screen. Click on the green 'Archive' button in the drop down menu.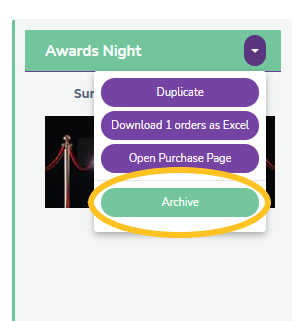 To access all your archived events, go to the 'Events' tab in your organisation menu on the lefthand side, click on 'Archived Events'. The dashboard will now display all the events you have archived.
Note, an archived event will display with a red line on the left-hand side. This always indicates an event is not currently available to customers.
Click on the 'Current Events' option in this menu to return your dashboard to the current event view.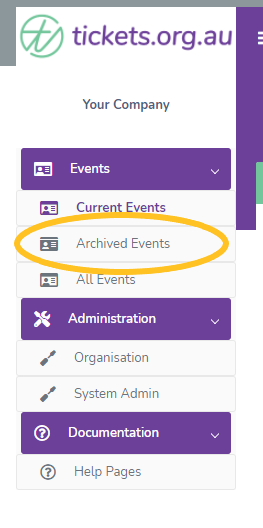 Permanently delete Event data including all orders
To permanently delete an event and all its associated data, including all order/ticket/guest information, click on the drop-down menu on the top right corner of the event and select the green 'Delete event with orders' option. If there have been no tickets sold to an event, this button will simply say 'Delete'.
Note, this can only be done on an archived event. If you can't find the delete option, check that the event has been archived first.